Home > News > Industry information > Textiles industry ...
15,2016
wellcool
Textiles industry —— 3D mesh material
Textiles industry —— 3D mesh material
Textiles industry, with many products in life are closely related, like mattresses, pillows, baby products and so on. In the present society, about products we may should pay more attention to environment protect, comfortable and health care not only price, style or brand. Of course the most important point is quality, and if you find the good and with strength factory, there will no problem in quality.
Today I am here want to say the thing is why use 3D mesh material to make mattresses, pillows, car cushion, baby products, medical products and so on? In fact, we can use other materials to instead of it, like mattress, we can use spring, emulsion, coconut fibre and so on to make it.
I think many people know about 3D mesh fabric, but still have some people think that 3D is a kind of 3D dimensions or 3D computer graphics. Yes, that right. Now I just move it into the textile industry. In the textile industry, it's called 3D mesh or 3D spacer fabric, the reason is it looks like 3D dimensions, because of it three-dimension structure.
It is a kind of high-elasticity, high-density knitting textile. Unlike traditional textile which is complanate, it is three-dimension structure. Its upper and lower side are meshes, and the middle is the unique X-90 structure made of polyester, giving it the outstanding support force,ventilation and washable functions.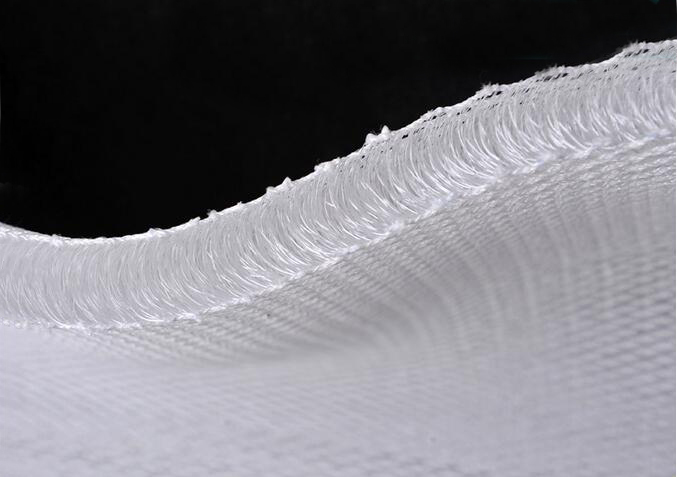 3D mesh's raw material basically is polyester fibre, Polyester is a category of polymers that contain the ester functional group in their main chain. As a specific material, it most commonly refers to a type called polyethylene terephthalate (PET). Polyesters include naturally occurring chemicals, such as in the cutin of plant cuticles, as well as synthetics through step-growth polymerization such as polybutyrate. [Form Wikipedia] Advantages of polyester fiber is pervious to light, be well ventilated, heat insulation, ultraviolet-proof, fireproof, moisture-proof, tearing resistance and not easily deformed. Shortcomings of polyester fiber is poor melt resistance, hygroscopicity and permeability, but after weaving it into mesh fabric, the poor hygroscopicity and permeability has become it's advantage. 3D mesh hollow three-dimensional structure make up for the problem of permeability. Coupled with poor moisture absorption of the material itself, make the 3D mesh the water flows for one second, washable and quick-drying. About poor melt resistance can add flame retardant to make up for the disadvantages.
In addition to the above, polyester fiber after burning does not release harmful substances, but will be broken down into carbon dioxide and water. This is environmentally friendly and harmless. So if you are using the product is made of 3D mesh, and you don't need it now or has reached the service life, you can burn it directly. Certainly you should in a safe place, to avoid causing greater trouble.
It seem that my whole article is about the advantages of 3D mesh fabric. But in fact, each material has its own advantages and disadvantages. I can't say the 3D mesh fabric is the best, but at least it's a good choice.